But I am done with grading for the time being. And the bike is fixed.
Perhaps during my next underemployed month I'll take a basic bike mechanics course, that would be fun, and then I can do repairs myself the next time.
One of my ESL students complained that his host father gets overwrought about every single sports event on TV. The host father watches a lot of sports games, alone, and screams and cries at the TV. I actually completely relate to this behavior. Being able to scream and cry about something is great. I can't scream at my online teaching supervisor, so a baseball game is a good thing to yell about. It was the end of the class, and I didn't have time to explain the word "alienation."
Even if you don't get overwrought about sports, I bet you get overwrought about something else. I yelled explicatives this morning while trying to fit the bike in the car (we have no bike rack), and I was glad to yell explicatives. It was great.
This is a picture of of someone in Parsva Bhuja Dandasana, or dragonfly pose. I kind of did this asana on Wednesday.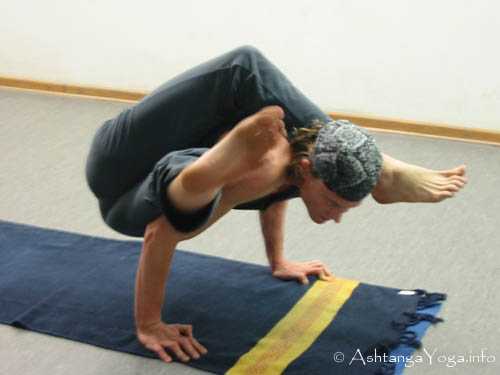 When I'm doing yoga and my teacher says something about peace coming from within, I always think something like, "yes, but if someone attacks me, it is essential for me to get angry about it and punch them if necessary." This is one of the many places where I differ from the new age pseudo Tantric yoga philosophy I love so much: balance doesn't come from within. Balance is a complicated dynamic. If I am standing on my hands, I need to focus on both my body and the environment.
Everything is a complicated dynamic. Duh.